Arizona has a hidden gem in Ak-Chin Southern Dunes golf course. While it's a bit of a drive from Phoenix or Scottsdale, it's worth the drive south as you'll find one of the best courses in Arizona.
The golf course is a true test of your game and on a given round, I usually hit every club in the bag. Plus, there are literally hundreds of bunkers on the course so you can't slip up mentally on any shot. It's challenging to say the least but very fair and rewards good golf.
Let's get into the specifics about why I think this is one of the best golf courses in Arizona.
Southern Dunes Golf Course Review
Southern Dunes is an epic golf course that is managed by Troon and located in Maricopa County. According to their website, "The course currently boasts several coveted accolades that include Golfweek's list of the "Top 100 Resort Courses," "Best Courses You Can Play," and "Top Casino Courses," as well as Golf Magazine's list of "Top 100 Courses You Can Play."
Southern Dunes deserves all these accolades and more as it's a world-class facility. PGA Tour legend Fred Couples even helped design the par 72 golf course in the early 2000s with the Schmid-Curley Design group.
From the tips, Ak-Chin Southern Dunes is 7,546 yards with a course rating and slope of 76.5/142. It's a championship golf course that has hosted elite qualifiers like the US Open (which I've competed in), high-level amateur events, and Korn Ferry Q-School. It's a great mix of desert and dunes golf that is loved by every golfer I've ever met.
First Impressions
One of the things I love most about Southern Dunes is the entrance when you pull into the course. While the drive from Scottsdale or Phoenix is kind of a journey, it's worth it once you roll through the gates. As you make the drive in you can see the 10th hole, tons of dunes, and can just feel that this place is all about golf.
Once you park, the clubhouse is right by a huge putting green with glimpses of the first tee box, 9th green, 10th tee, and 18th green. While the course is impressive, don't sleep on the practice facility either. It's one of the best in the Phoenix area and would go weekly if it wasn't a 45-minute drive from my house.
They have a massive driving range with a grass teeing area that spans nearly 100 yards long and 40 yards deep. There is never a shortage of great areas to hit golf balls from and they have the best targets of any driving range – real greens! 
Plus, on the right side of the driving range they have a fairway bunker to practice from; which is a good idea because most rounds you will find plenty of sand at the Dunes. This is so rare for any golf course and it's always nice to have the option to practice one of the more difficult shots in golf. Plus, they have a good size chipping green where you can bunker shots and go back to nearly 50 yards.
Let's not forget about the fact that the driving range is not only a practice facility but a golf course known as the Mini Dunes.
Mini-Dunes Golf Course
Instead of just hitting at flag sticks, you get to aim at real greens from 80 to 300 yards. They close the range Tuesday-Sunday afternoon and convert into the "Mini Dunes" which is a six-hole par 3 course. So not only is it a driving range, it's a functional par-3 golf course with incredible greens. 
The Mini dunes course is only $12 ($9 with Troon Card) or an all-day practice pass is $25. Juniors under 17 years old get to play for free! These rates allow for unlimited golf at the Mini Dunes.
Here are the distances for the six-hole course:
Hole 1 | 100 yards
Hole 2 | 70 yards
Hole 3 | 65 yards
Hole 4 | 77 yards
Hole 5 | 114 yards
Hole 6 | 61 yards
Needless to say, this is a great place to work on all parts of your game and get a solid warm-up before a great test of golf.
Best Holes at Ak-Chin Southern Dunes Golf Course
Southern Dunes golf course has zero bad holes, so it's hard to only pick a few but here are my favorite:
#3: Par 5 – 575 Yards
From the tips, this hole is a beast and requires two perfect shots for a look at an eagle. You have to miss the enormous fairway bunker left and smaller ones on the right side. Then, squeeze a 250+ yard shot between a sea of bunkers by the green. Even if you do find the green in two shots, it's not an automatic two-putt especially with a back pin.
#4: Par 3 – 165 Yards
On the scorecard, this hole looks like a relief as it's the shortest hole on the golf course. But don't let the distance fool you, this hole is challenging. Even though it's only a short iron, there are bunkers everywhere (a theme you will notice at Southern Dunes).
Plus, the green is incredibly narrow and slopes hard back to front and right to left. If you're on the front left part of the green and the pin is back right, you might have a 100-foot putt. Missing short is better than long as the back bunkers slope away from the green and leave a nearly impossible up and down.
#6: Par 3 – 248 Yards
If they have the tee boxes back all the way, this hole is nearly impossible but a great challenge. You usually have to hit a long iron, hybrid, or even lofted fairway wood to find the green.
There is a huge slope on the front portion of the green and a bunker right that you want to avoid. Carding a three on this hole feels like a birdie.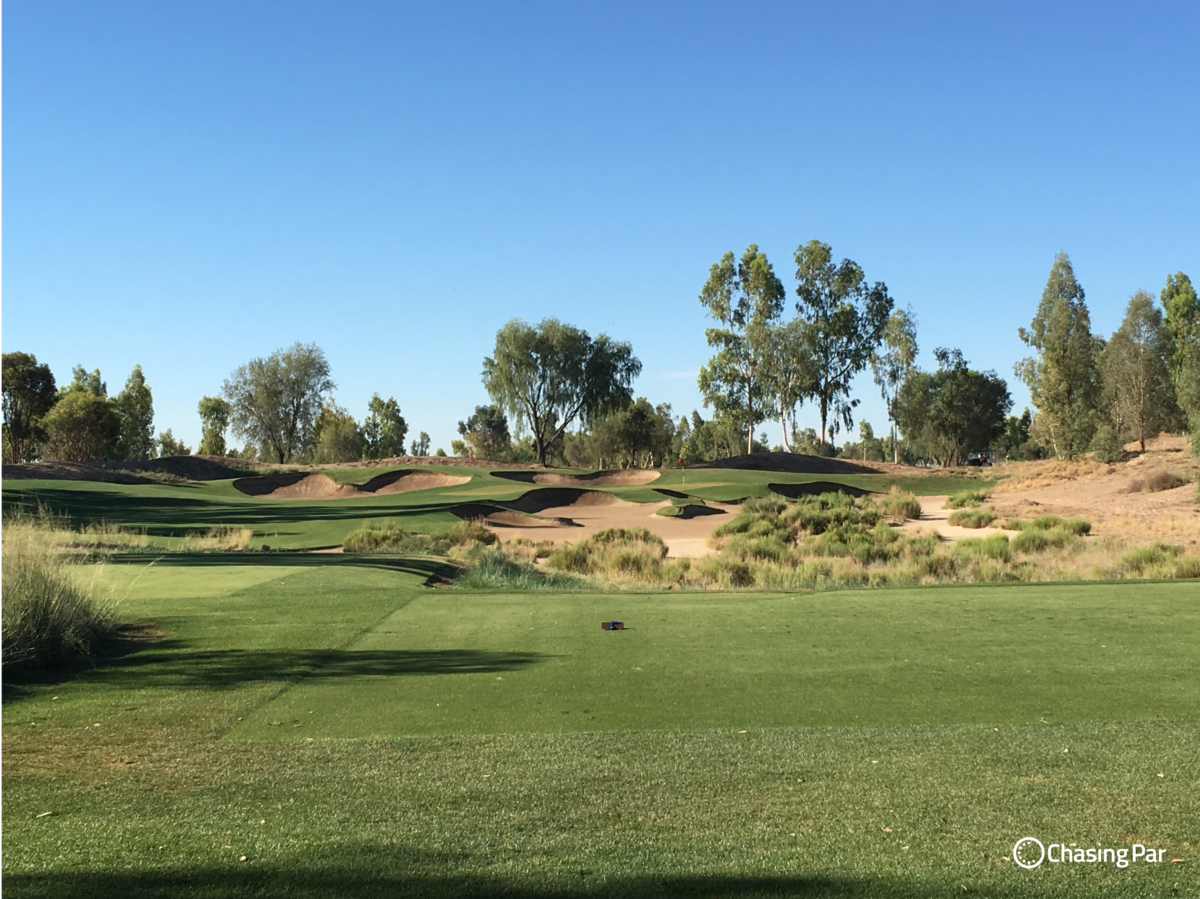 #13: Par 5: 606 Yards
All the par 5s at Southern Dunes have character, but this one is my favorite. Despite being six football fields in length, it's usually downwind and the course usually plays firm and fast. So if you bomb a drive and hit a dialed in approach shot, you can get home in two.
Your drive needs to miss the fairway bunkers and there's a huge waste area right. Plus, the green is massive and slopes back to front. If the pin is back right, miss short or left to give yourself an easy birdie look.
#14: Par 4 – 323 Yards
The 14th is the shortest par 4 on the course but definitely a risk reward hole. While big hitters can drive the green, trouble is everywhere.
If you push it right, you could find sandy desert dunes or one of the many bunkers. If you end up in the short bunker, you have 60 yards into the green – a shot Tiger Woods said is the hardest in golf. Plus, more bunkers left of the green that are deep too.
But the layup isn't easy either with a massive slope in the fairway and another fairway bunker. I think the play is to aim at the left bunkers with the driver. There's more room left than it appears from the tee box.
#18: Par 4 – 463 Yards
The final hole is a great finisher and by no means easy but usually plays downwind so that helps. The tee shot is pretty open, but the approach shot is tough with bunkers long and left. Not to mention, water looming right and any shot that hits short or on the right side of the green can trickle into the water.
If it's downwind, the hole is hard because your approach might skip into the back bunker. Which leaves an awkward bunker shot hitting back toward the water. Par is a great score here.
Best Shot of the Day
My best shot of the day came on the par 5 13th hole. After nuking a drive, I only had 260 yards to the green ( (it was downwind) and launched a hybrid to the front left portion of the green. A two-putt birdie always feels good on a 606 yard hole.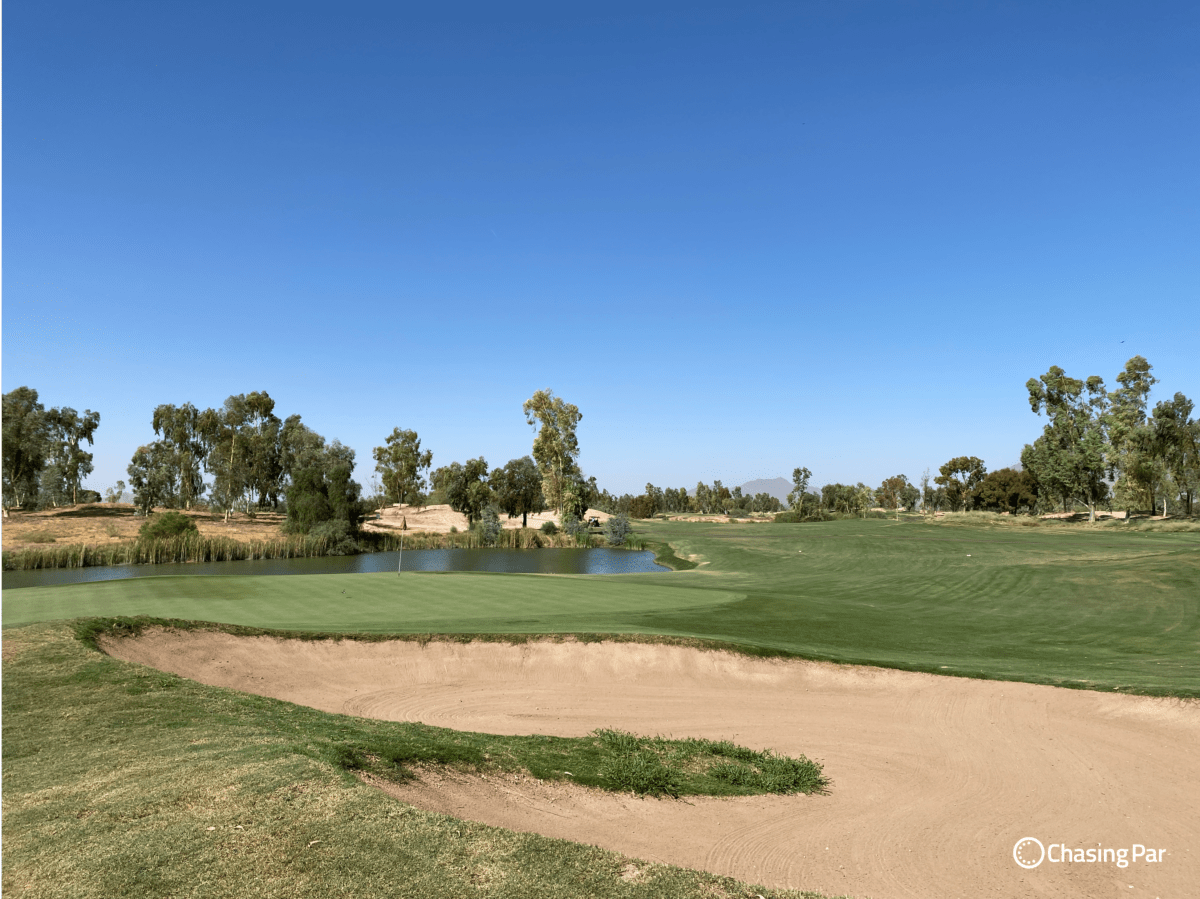 Overall Recommendation for Southern Dunes Golf Club
My overall score of this golf course is 10/10.
I've lived in Arizona for 12 years and played nearly every public golf course and can say hands down this is in my top three. If not, my all-time favorite golf course in the state next to Wickenburg Ranch and Camelback Ambiente.
The main reason I love it so much and recommend to anyone who golfs in Arizona is because it's always in perfect condition. Whether you play it in mid-winter or the dead heat of summer, the course is pristine. Plus, the practice facility is great and since it's so far away from Phoenix, it's not as busy, so the pace of play is usually fast.
What's In the Bag
Driver = Callaway Triple Diamond Rogue ST Max 9.0 – adjusted to 10.0 with "D" setting with Project X HZRDUS Smoke 70 gram shaft (X-Flex)
3-Wood = Callaway Mavrik Subzero 15 degrees with 80 gram Project X HZRDUS Smoke 80 gram shaft (X-Flex)
Hybrid = Titleist TSi3 with Project X HZRDUS Smoke 90 gram shaft (X-Flex)
Utility iron = Titleist U500 4 Iron (23 degrees) with Project X HZRDUS Smoke 100 gram shaft (X-Flex)
Irons = Callaway Apex TCB 5-AW with 115 gram Project X IO shafts (X-Flex)
Wedges = Titleist Vokey SM8 (56.10 & 62.8)
Putter = PXG Operator
Ball = Titleist Pro V1X
Should You Play This Course?
Yes, I can't recommend Southern Dunes enough.
The only caveat is that based on its geographic location, it seems to get more bugs than any other golf course in Arizona. Make sure to pack your bug spray so you don't get eaten alive.
Otherwise, it's 100% worth the short commute if you live in Phoenix.
Looking for a great Arizona Golf Course? Southern Dunes Golf Course is a hidden gem in Arizona
---
What's in the Bag?
If you're looking for your next set of clubs, check out the Chasing Par guide to Drivers, Wedges and Putters.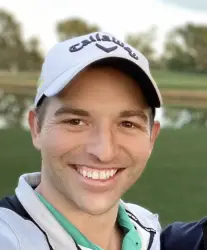 Latest posts by Michael Leonard
(see all)