Phoenix has five city courses that are located throughout the valley. While some players rave about Papago, I think Aguila golf course is the best city course and a great deal year-round.
While it's not a scenic course by any means, the conditions are always very pure. You can count on lush fairways and pure greens. It's a pretty open course too so if the wind comes up and the greens are firm, it can make for a fun challenge.
Aguila golf course is a city-owned track that is located in Laveen Village, Arizona. The 18-hole golf course is just over 7,000 yards from the tips and a par 72 layout.
They also have a 9-hole executive golf course that is great for beginners or if you want to work on your short game. On the par-three course, they have two teeing areas on each hole, the greens are the same as the 18-hole course, and it's a great place to hone your wedge game.
First Impressions
The first impression of Aguila is okay at best. It's not in the nicest area of Phoenix but the course itself is always in good shape which is what most golfers care about more than anything else. They have a great practice facility though with a massive putting green, all grass driving range, and good-sized chipping green.
Both nine holes are solid on the championship course and would say the front nine is slightly easier than the back nine. Let's get into some of the most memorable holes on the course.
Best Holes on Aguila Golf Course
Hole 4: Par 4, 462 Yards
The fourth hole is a tough one, but your confidence should be feeling good after three pretty easy starting holes. The hardest part about this hole is the tee shot as trouble is everywhere. If you can find the fairway it's a lot easier, however that requires dodging the fairway bunker left, OB, and desert on the right side of the fairway.
The ideal line is over the fairway bunker or just to the right. If you carry the bunker, your tee ball will hit the downslope and roll 20-30 yards leaving an easier approach shot. The green is tough with two tiers and the best place to miss is short or left.
Hole 5: Par 5, 519 Yards
The 5th hole requires a great drive to give yourself a look at going for the green in two shots. It's a blind tee shot, but there's more room up there than you think. If you miss right, you might find the fairway of the next hole and it isn't the worst place to miss.
The approach to the green has plenty of obstacles to avoid and might make sense to play it in three shots. There's a hazard left of the green, bunker short, and bunker right (which leaves an awkward 30-50 yard shot). Aim for the right center of the green to avoid the hazard and the slope should take your ball back to the middle.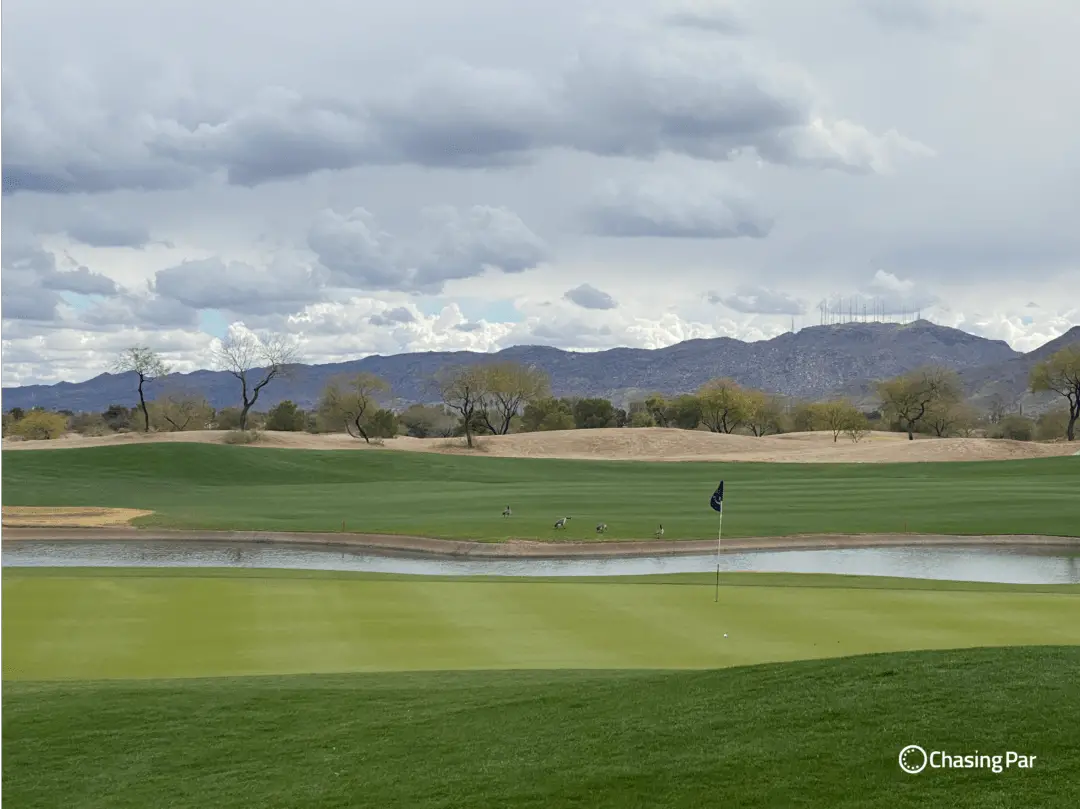 Hole 8: Par 4, 309 Yards
The 8th hole is a good scoring opportunity from any tee box. I always take driver and go for the green because as long as you can carry it 250 yards from the tips, it's worth it.
If you pull the drive left, the mounds kick it back right near the green for an easy up and down. There's more room right than you think and the greenside bunkers will catch an errant shot.
Plus, if you hit it straight, it will find the large green and leave yourself with a good look at the eagle. I even had a buddy make a hole-in-one in a tournament!
Hole 10: Par 5, 531 Yards
The 10th is a fun golf hole that requires a precise second shot and might even make an eagle to start the back. To get yourself into position, hit a good drive and it could catch the downhill slope and roll an extra 20 yards or so.
If they tuck the pin back left, proceed with caution. I would not suggest firing at a left-pin location unless you were forced to lay up and have a wedge in your hand. Trying to attack that pin with a long iron, hybrid, or fairway wood is pretty much impossible.
Instead, play for the right center of the green and take a long putt. There's room to miss short but long and right aren't great.
Hole 15: Par 5 600 Yards
If they tip this hole out, it's a beast and requires two perfect shots to find the green. Either way, the tee shot isn't easy as there is a hazard left and you can't see much of the right rough. Avoid going left as it's marked as a hazard but normally impossible to play it from there.
The second shot isn't easy if you try to go for the green. There is a fairway bunker left and desert right, which make for a tight shot if you're hitting a fairway wood.
There's no shame in laying up and playing it as a three-shot hole. Be careful of a back pin and the green slopes front to back and it is hard to get close.
Hole 17: Par 4, 321 Yards
The 17th hole at Aguila is one of the best risk-reward holes at any public course in Arizona. Unless you're a bomber, this isn't an easy drive to get on the putting green. The carry is about 270 over water and water runs the entire left side of the green.
The layup is just as hard as you have to avoid the water, a fairway bunker, and desert terrain to leave yourself a good approach shot.
My only advice here is to pick a club that will give you 100-120 yards into the green. Commit to your line and try to forget about the trouble that is all around.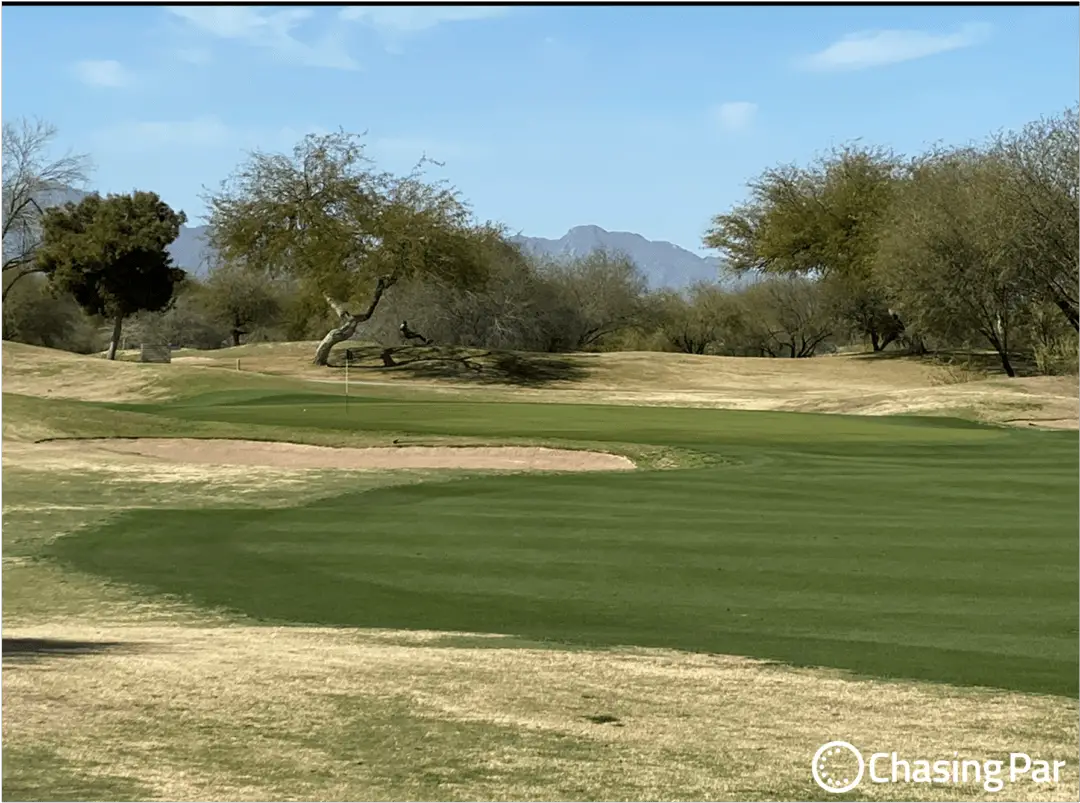 Best Shot of the Day
My best shot of the day came in the WM Open pre-qualifier in 2022. I started out on hole 10, had some bad luck, hit a bad shot, and walked away with a double-bogey on a par five – not ideal in a one-day qualifier. I just kept thinking to myself, "I'll get it back."
The endless optimism paid off quickly. On the 12th hole, I had 139 yards to a front pin and it was a perfect pitching wedge. I hit it great and it was all over the pin from the moment it left the clubface.
Since it's an elevated approach shot, I couldn't see how close it ended up. As I got up to the green I didn't see any ball near the hole and I was in disbelief.
Then I walked by the cup to double-check and sure enough, it went in. My double bogey on the first hole was erased with a hole-out eagle on number 12.
Overall Recommendation
Rating = 8/10
This Phoenix public golf course is always in good shape and hosts tons of amateur events and qualifying. They have a great practice facility, 9 hole executive course, and a great layout. Conditions aren't as good in the summer but most of the year they're as good as any public course.
What's In The Bag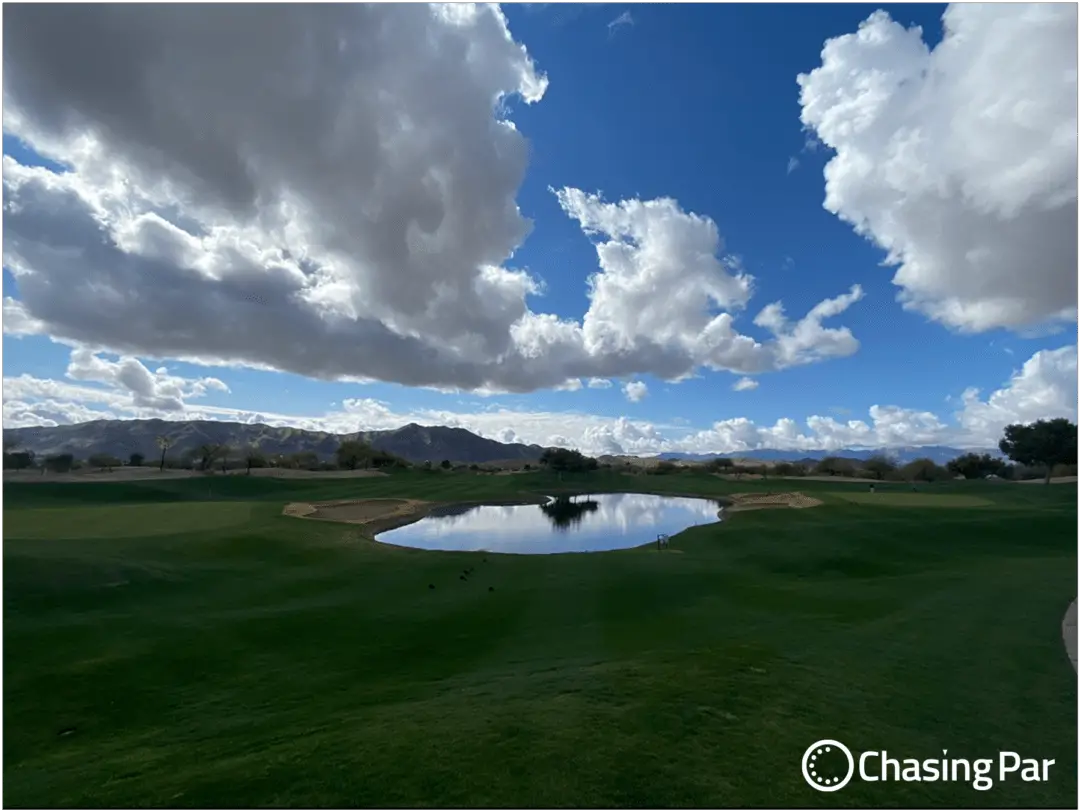 Should You Play This Course?
Yes, I think this is the best city golf course in Arizona beating out Papago, Rolling Hills, GCU, and others. Even when rates skyrocket in peak season, this course is always very affordable. The conditions are pretty consistent year-round and think they do a great job managing the fairways and greens despite so much play.
It's well worth the drive even if it's not the most scenic golf course. Play the 9-hole executive course after your round to hone your short game too.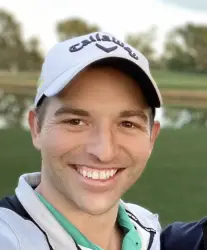 Latest posts by Michael Leonard
(see all)