Whether you travel frequently to enjoy golf or only get away on special occasions to experience the game on someone's else's turf, the trip should always be about more than just playing the game.
Even if you get in 36 holes, there's still more than half the day to fill with meals, entertainment or even shopping (to get that guilt gift for your spouse or partner back home).
Lunenburg, Nova Scotia offers all those things, in addition to an interesting little 9-hole golf course with an ocean of scenic vistas.
It sits on what's known as Kaulbach Head, a piece of land right across the harbour from town, which is one of only 2 urban communities with a UNESCO World Heritage Site designation. Take care on arrival; the road to the clubhouse is parallel to the first hole – a short downhill par 4 – and cars can easily be unintentional targets of wayward drives.
They call it a semi-private club, but the staff and even the members eagerly welcome guests. Tourism tills the rudder these days in this community that was built on the Atlantic fishery. I arrived as a single and was paired with a couple of members who patiently waited for me on the first tee while I hurried to grab my clubs and tie my shoes.
The course has been around since 1933, although its design credentials are uncertain. From what is officially referred to as the "standard" tees, it's just under 5300 yards for 2 circuits (there are separate tee boxes for each of the front and back 9s). While the men's course rating for that distance is 66.7 and the slope is just 108, there are still challenges out there. Ultimately though, a round at Bluenose GC is more about aesthetics than athletics.
Pulling the cart around to the first tee – and this is a course that you don't want to walk as almost every hole has either a down or an up, or both – you'll have an absolutely awesome view of the town. There is a pristine wharf with red warehouses and colourful homes climbing the hill from the sea. Most of the buildings are classically-restored originals from the 18th and 19th centuries. There is also all manner of watercraft, from the gritty little dories to tall ships with massive sails that grab your attention. And yes, you can smell the ocean, which can never be overrated.
Having a couple of locals by your side is incredibly helpful as you make your way over and around the layout. There's a multitude of blind shots and you might not like the next shot you are facing even if you think you hit the previous one well. The greens are also quite small and there are bumps and hillocks of varying sizes protecting almost all of them.
The 8th (and 17th) hole is a real treat… if you can keep your mind on the game. It's a par 5 that runs along the water with a bank on the right that rolls shots down to the green. But don't go too far left because there are nearly as many golf balls on that seashore as there are seashells.
Any experienced fisherman will tell you that you're never really safe until you're tightly tied up in port. That's also the case at Bluenose. The 9th (and 18th) hole, a 410-yard par 4, requires a booming drive up a steep hill. Hit it past the cannons – yes, there are literally cannons on the top of the hill that once protected the town from invaders – or it's a challenge to reach the green in two shots, especially if the wind is blowing offshore.
When you're done with your round, it's time to hit the town. You can comfortably walk around on the wharf – maybe the Bluenose II will be tied up in its home port – or you can visit the shops and restaurants. Enjoy the guaranteed-fresh seafood and sample some locally-distilled spirits.
Lunenburg is a special place that demands your appreciation. Better yet, you'll be able to satisfy all the aspects of an outstanding golf trip.
⛳Chasing Par was created to be a resource for golfers looking for an edge on their game or avoiding being blinded by the sun. Some of our latest tips cover Golf Nutrition, Spending your money wisely on Golf Balls, how to get started from scratch (or restart) and how to decide if you should push, pull, carry or drive your cart.
Scott, what's in the Bag?
Each of the Chasing Par contributors also shares what's in their bag. We find it's a great way to give more details about the round and golfer. When possible, we like to link to a product page for each of the clubs for you to find more information.
*found in the deep grass – yes I was looking for my ball – about 40 yards off the 6th green at Oklahoma University golf course – must have been quite a toss! Tried to turn it in at the clubhouse but they told me to keep it – been using it ever since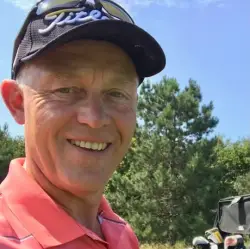 Latest posts by Scott Scantlebury
(see all)