Show me a magnificent morning in Missouri and I'll show you a good day to golf.
Our first stop on a 3 state tour, which also included Arkansas and Tennessee, was Poplar Bluff, a town of about 18,000 people in the southeastern corner of the state.
Not exactly a traditional golf destination, but if you pass through the area put Ozark Ridge G.C. on your itinerary. Say "Hi!" to Buddy when you arrive at the modest little clubhouse. 
Buddy Godwin is the club pro and patriarch. A wooden sign hangs between snack bar and the retail counter – "Buddy's Golf Shop". The story goes that the original 9 hole course was built in 1981 by the town. It was designed by Edmund Ault, who also drew up TPC Potomac at Avenal Farm (Maryland) and the Las Vegas Country Club, but Ozark Ridge struggled despite a pretty decent provenance.
The town fathers brought in Buddy to turn things around. He laid out a second 9, using the area's topographical features to perfection and he established a comfortable, casual atmosphere at the club which has become a fixture for public players in Poplar Bluff. 
It's easy to see how Buddy attracted attention and green fee payers. "What's the course record?" I asked facetiously – as if I had a chance to challenge it! "An hour and 35 minutes!" Buddy replied quickly, checking the bravado of an outsider with, possibly, a country club arrogance for the humble little muni.
"This is a pretty good track for a municipal course," he added without a hint of pretension. And he is right. In fact, Buddy's sons grew up playing at Ozark Ridge prior to attending Arkansas State University and one of them, Joe, twice won the Missouri amateur championship.  
From his perch behind the till Buddy figured out what we owed for the round. Looking us over he judged us to be seniors (we didn't argue – at some point that has become a compliment) and he proclaimed the cost to be $11.00 for 18 holes, walking. We argued briefly that he must be mistaken, but he held firm and took our cash.
Deciding to walk was easy. Due to the conditions it was cart path only and that can often mean more walking (and frustration) than just pulling your clubs down the fairway. And at 6260 yards from the blue tees it wasn't a long walk though there's enough terrain to give you and your game a decent workout.
While we didn't see the course at its best –heavy rain the previous week made the course a little soggy –we could easily imagine how Ozark Ridge might play on a mid-summer day. 
Fairways are narrow and rolling. It's a well-treed course with small greens that have lots of challenging slopes. Water comes into play on exactly half the holes and bunkers are infrequent but well located.
My favourite hole is the 10th– a 360 yard par 4 that appears longer when you're standing on the tee. The play is to try and hit your tee shot from right to left using a lone evergreen in the right rough as your target. There's marsh and water down the left that merges in a pond guarding the front of the green. A copse of trees makes a fine backdrop for your pitch to the putting surface that runs steeply from back to front.
Buddy was gone by the time we strolled off 18 green, but we had a nice chat with the nice lady handling the bar who provided some more details on Buddy and the course. It was a great way to kick off the 6 day, three state adventure.
And before we left we made some purchases in the pro shop because it just seemed equitable. Afterall we had gotten a lot of value for our $11.00.
*found in the deep grass – yes I was looking for my ball – about 40 yards off the 6th green at Oklahoma University golf course – must have been quite a toss! Tried to turn it in at the clubhouse but they told me to keep it – been using it ever since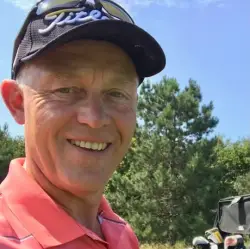 Latest posts by Scott Scantlebury
(see all)