Whirlwind Golf Course has been there throughout my golfing career and I think you'll love it. If you're in Arizona and appreciate nice courses, you won't want to miss an opportunity to play here. 
While attending college in San Diego, I would fly out to Arizona to visit family and loved playing these courses. After graduation, I moved to Arizona and this place became a staple in my golf course rotation. 
Over the past decade, I've played these courses a lot and competed in USGA qualifiers and other high-level amateur events. I shot one of my best competitive rounds here and it's always just had a good vibe to it. While there are no elevation changes or scenic views, it's just a great facility that rewards solid ball striking. 
Let's dive in!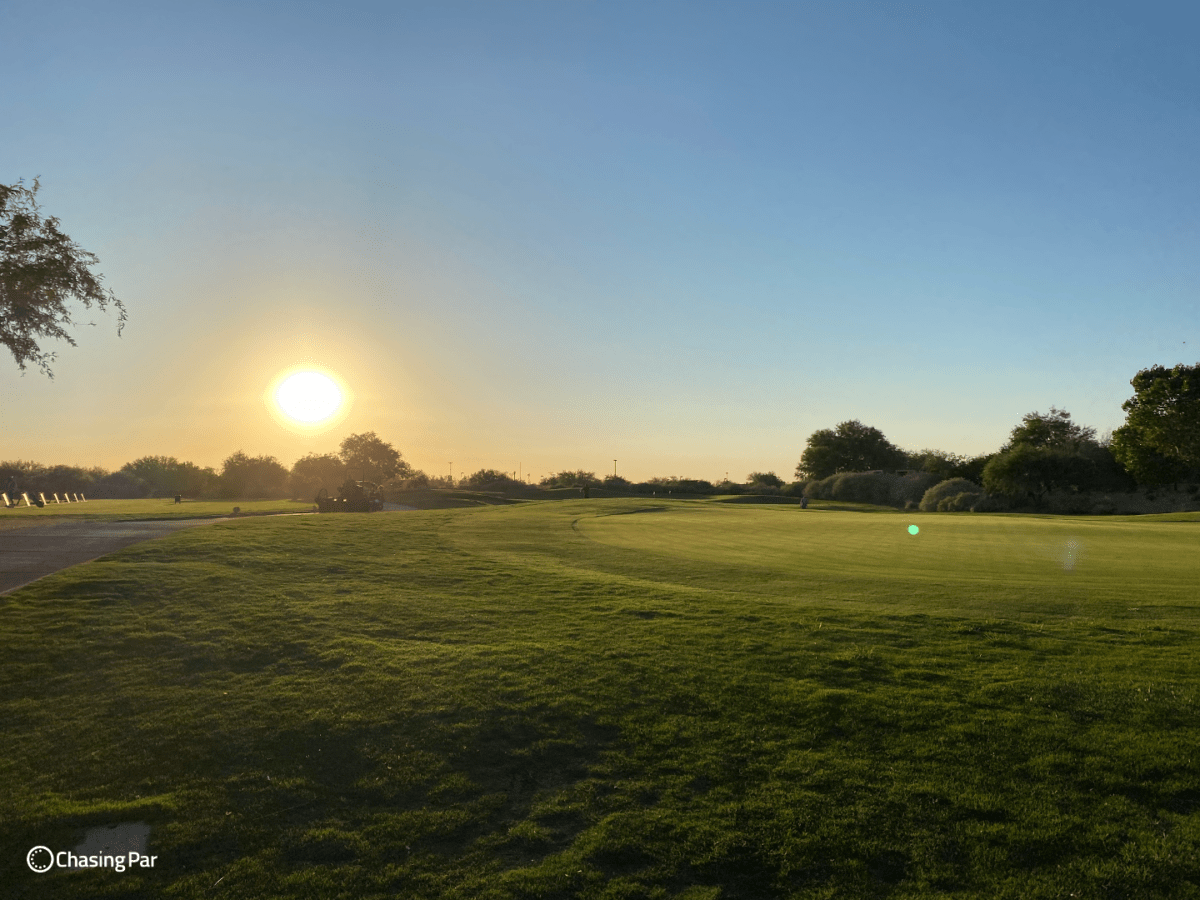 First Impressions
Whirlwind Golf Course is tucked away from the I-10 in Chandler, Arizona with a great outlet shopping mall and casino right next door. What's nice is that it's very secluded and there aren't any houses on the courses, just 36 holes of golf and plenty of desert. 
As you drive into the facility, you can see the back of the two-sided driving range, a few holes, and the desert landscape. The clubhouse is a good size, with impressive facilities and a massive putting green just outside the pro shop. 
While it's not a private golf club, they do offer a select number of memberships each year. Despite being open to the public, they make it feel like it's a private club with outside services whisking your bag to your cart as you pull into the parking lot. 
Overall, it's a professional vibe but not stuffy by any means. This is not where you go to hack it around – this place is for serious golfers who are willing to pay a premium fee. 
Whirlwind Golf Course Overview
This Troon golf facility has a lot of positives, including 36 holes of high-quality golf at either Devil's Claw or Cattail. 
I don't think one course is necessarily better than the other, as each holds their own. If you can play 36 holes in one day, you're in for a treat!
Practice Facility 
Before jumping into the details of each course, I have to commend Whirlwind on a solid practice facility. Let's face it, some courses spend all their time and money on the golf course and forget about the warm-up area. Whirlwind does not; I would argue that it's one of the best places to practice in all of Arizona.
I used to practice here regularly, but as golf continues to soar in popularity, they've increased prices to $45/day for a practice pass. Still, if you need a grind session and want to work on all parts of your game, this is the place to do it.
The two-sided driving range is easily 400 yards long, with a massive grass hitting area and plenty of targets. On the far side (the "member" side) of the range, you can even hit from fairway bunkers and two large chipping greens.  
The non-member side has a huge chipping green too and another putting green (plus the one next to the pro-shop). There's almost no shot you can't hit at this facility and should get a great warm up before your round.
Devil's Claw Golf Course 
Devil's Claw is a 7,029 yard, par 72 course and the shorter of the two tracks. 
This course is desert golf with almost no rough, but wide enough that it doesn't feel like true desert golf (like Troon North). If you spray an errant tee shot into the desert, a lot of times you can still find and play it. 
Cattail Golf Course 
Cattail is also a par 72 but plays significantly longer at 7,334 yards from the tips. 
The par 5's are all very long (567, 599, 611, and 560 yards) with a 245-yard par 3 as well. Similar to Devil's Claw, this course is desert golf, but the fairways are good-sized and not too challenging.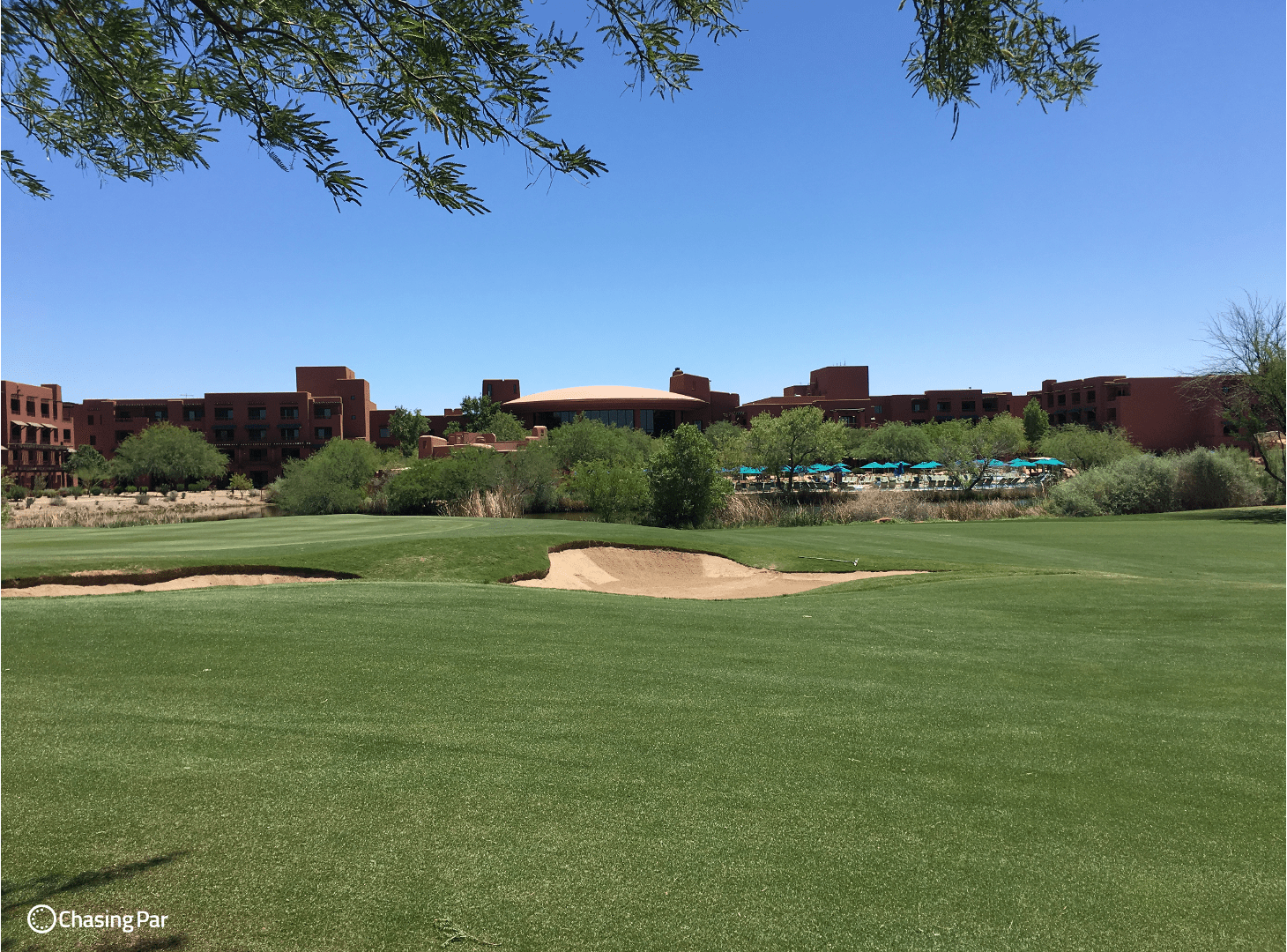 Best Holes at Whirlwind 
While the courses have the same desert terrain, each has some memorable holes. Here are my favorite ones from both courses:
Devil's Claw #3 
The third hole is a solid par 5 at 593 yards from the tips and is a risk-reward hole. The tee box seems to aim you toward the right bunker and desert, but there is plenty of room left. The fairway has some slope on it and will kick your ball forward – leaving you to make a decision. 
If you find the short grass, you can lay up (between tons of fairway bunkers) or go for the green. Neither shot is easy, so just make sure you commit to your target. The green isn't much easier with its two tiers that slope front to back. 
Devil's Claw #7 
The seventh hole is a great par 3 at 160 yards from the tips and a 35-yard-deep green. There's a creek right, large bunker left, and pond short. Even though it's not a long shot, you must commit to the number and even if you find the dance floor, a two-putt is no guarantee. 
Devil's Claw #12 
This hole is a beast at 222 yards from the tips and it plays all of it. A large bunker guards the left and water is right, plus a huge green with a few nasty slopes. Take a three and run to the next tee box!
Devil's Claw #17 
As the round comes to an end, make sure you stay focused because 17 is a grown-man golf hole. At 551 yards, it's not the longest but it's challenging from tee to green. 
Desert and OB is right off the tee and a huge fairway bunker left. If you miss left, you will need to lay up in front of the dry creek bed about 100 yards short of the green. If you find the fairway, you can also layup or go for the green in two. 
It's no cakewalk with desert everywhere and a long club in your hand for your second shot. If that's not enough, the green has several tiers to navigate as well. 
Cattail #5 
The 5th is 337 yards from the tips but plays shorter if you go straight for the green. However, if you go left, you're in the drink as there's water alongside the entire hole. 
I think hitting driver is still the play vs. laying up as you have some room right of the green and short. Try to make a birdie because the next par 3 isn't easy. 
Cattail # 10  
Welcome to the back nine with a 245-yard par 3 from the tips. Not only is it long, but you have water right, a 40-yard-deep green, and a steep slope short of the green. You can't roll one up so you need to hit a solid long iron, hybrid, or fairway wood (if it's windy). 
Cattail #12 
This is my favorite hole on the golf course; at 611 yards from the tips, it's a beast. It plays long as you barely get any roll on the drive. Plus, it's the third hard hole in a row after the long par 3 10th and par 4 11th.
If you can find the fairway (don't miss right), the second shot still requires precision to avoid the fairway bunkers. Then, the green is pretty narrow and a right pin brings water into play. 
Eagle is pretty much out of the question and a birdie is far from guaranteed. It's a challenging par 5, even for the best players.  
Cattail #18 
The final hole at Cattail is much more memorable than the 18th at Devil's Claw. At 450 yards from the tips, it's a hard tee shot as the fairway is very narrow with bunkers left and right. 
If you find sand, it's an uphill, nearly impossible second for the everyday golfer. But if you hit the fairway it will catch the slope and tumble another 30 yards giving you a much better approach shot. Make sure you club up on your second shot as it's 5-8 yards uphill to another big green. 
Best Shots of The Day
I've had the chance to play this course dozens of times over the past decade. From casual rounds to 36-holes in one day tournaments and USGA qualifiers.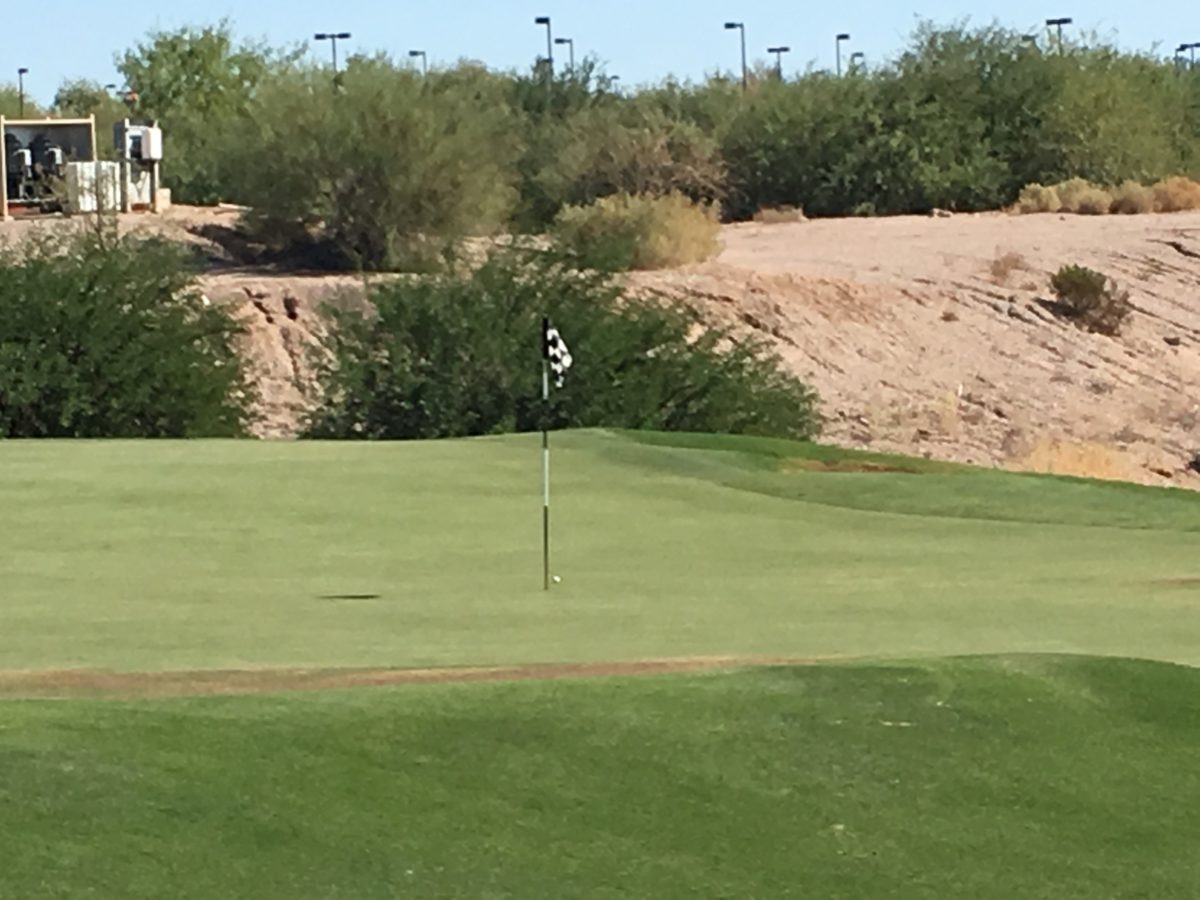 Here were some highlights from the last time I played the Cattail course: 
#4: I think this is the hardest hole on the front nine at 462 yards. I had an awful first three holes but blistered a drive that only left an 8 iron into the narrow green. I stuffed my approach shot and made the 4-footer for birdie.
#7: At 599 yards, it's not one that I can go at in two shots unless there's some wind behind me off the tee. I bombed a drive but still had 290 uphill to the green. I hit a skinny 3-wood to 40 yards, chipped it to 5 feet and made the birdie.
#11: The fairway slopes left to right and I hit a perfect drive that left me 170 into the green. The pin was tucked back left and I hit a gorgeous draw 8 iron to 8 feet (and missed the putt).
#15: If you can find the back tee (it's about 40 yards behind the normal tee boxes), it's a totally different hole than the other four tee boxes. I hit a solid 7-iron to 25 feet and made the right to left slider. 
After a horrible start, I ended up with four birdies and shot an even par 72. Never a bad day at Whirlwind and the Troon card is worth the investment.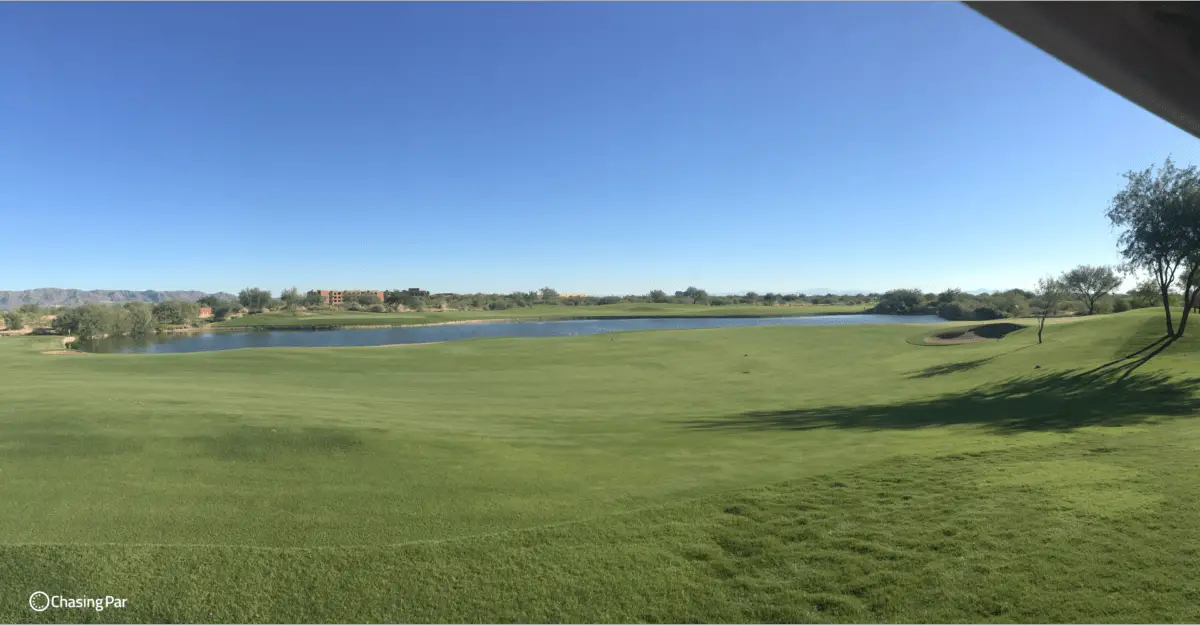 Overall Recommendation
My overall score of these courses is 9/10. 
From start to finish, it's a great experience for serious golfers who want a course that is in good shape nearly all year round. The fairways are manicured perfectly, the greens always roll 10-11, and everything is maintained very well. 
These courses have hosted big tournaments, such as the Korn Ferry Finals and US Amateur qualifiers, so you know they are high-quality. If the wind picks up, they move some tee boxes back and tuck the pins, making it a great test of golf. While it is desert golf, it's very fair with wide landing areas and some playable desert areas. 
It's definitely not the cheapest course but it's worth the money. If you can make a day of it, play 36 holes for the full experience. Also, make sure you get there early so you can enjoy the incredible practice facility.
Finally, I can't leave this review without saying you need to try the Philly Cheese sandwich at the grill. I remember playing poorly in a tournament one day and was counting down to the moment I could eat this epic sandwich. 
What's In the Bag
---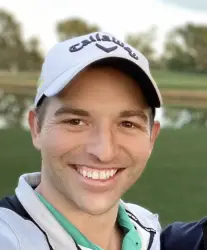 Latest posts by Michael Leonard
(see all)