The Legacy Golf Club is the #1 public course in Phoenix according to ESPN Travel and Golfweek. It's also received other awards like:
Top 200 resort course in the world – Golfweek
#19 best places to play in Arizona – Golfweek 200
Top 10 public courses – Ranking Arizona magazine
Needless to say, it's a great golf course that is highly reviewed by locals and tourists alike. Let's get into what makes this course such a good choice in the Phoenix area.
Legacy Golf Club Review
There are so many golf courses in the Phoenix/Scottsdale area that it's sometimes hard to choose where to play. But Legacy has been a staple on my course rotation for the past decade and I haven't known any golfers who don't enjoy it. It's desert golf but open enough to where you have to hit it pretty bad to find the dirt and cactus.
Legacy is an 18-hole public par 71 golf course that plays 6,946 yards from the tips. It's right across the street from the Raven golf course which is also a great place to play in the area. If you feel bold and want to play 36 holes in one day, this would be a great one-two combo.
First Impressions
The first impression of Legacy golf course is a favorable one as you drive in next to a hard par three and can see the quality of the golf course immediately. Then you drive through the condos and by the resort pool which is next to the clubhouse. It's a nice establishment but not overly fancy and inviting.
Once you walk through the clubhouse, you have great views of the 18th green, 10th tee box, and amazing practice facilities. They have a huge putting green where I'll sometimes go and spend an hour putting since the green is so pure.
Plus, a great chipping green with a huge bunker and the sand is always in perfect condition. You can work on all types of shots around the green and the driving range is right there as well. It's an all grass hitting area and seems to always be in mint condition with tons of targets.
On the other side of the driving range is the Legacy Golf Performance Center which is a Golf Channel Academy facility. You can hit both from the grass or inside the building and use Trackman since they have large doors that open into the driving range. They have 1:1 lessons, group coaching, and other events plus another chipping and putting greens. 
Best Holes at Legacy Golf Course
One thing I like about Legacy Golf Club is that you know what you're getting yourself into. There are no blind shots, unfair greens, or massive doglegs with desert in play. Everything is pretty much right in front of you, but there are still some memorable holes on the front and back.
Here are the best holes at Legacy.
#5: Par 4 – 368 Yards
There are some par 4 birdie holes on the front – including #1, #3, and #5. This hole is pretty "gettable" if you hit a good drive. It's pretty short and wouldn't recommend a driver as it can get you into some trouble.
There's a big downhill slope in the middle of the fairway that will kick it forward and can go to the desert. Instead, opt for 3 wood so you're on top of the hill and have a better look at the pin. Make sure to avoid the bunker short as it's deep and a tough up and down.
#7: Par 3 – 150 Yards
Despite being the shortest par 3 on the golf course, it's far from being the easiest.
First off, the green plays 5-10 yards uphill, depending on the tee box you're playing. Since you can't see much of the green, it makes the shot a little harder to commit to a target and distance.
Plus, there are bunkers short that seem to act like a magnet. Avoid these at all costs as they're very far below the putting surface and make for a difficult up and down. There's also two tiers on the green that make the hole challenging as well.
#11: Par 3 – 178 Yards
While there is no water on this hole, I always find that it plays difficult and so do my playing partners. It's not that long but always plays into the wind, is slightly uphill, and a tough 3-tier green.
There's really nowhere to miss either. Long is dead in the desert, short will roll back 10-20 yards, left is a tough bunker shot, and right isn't very good either. Club up, aim for the middle of the green, and hope for a three.
#14: Par 5 – 580 Yards
This is my favorite hole on the golf course and definitely a risk-reward type of hole. The drive is actually pretty open but you can't see much of the fairway from the tee. You can miss right into #13 fairway but going for the green in two is pretty impossible from there. You also want to avoid the left bunker as it will make it a 3-shot hole and the lip is pretty intimidating for most golfers.
If you find the short grass, you can go for the green in two but it's not an easy shot. You will have to hit a hybrid or fairway wood to a narrow green with water left and a bunker that might catch an errant shot. The green is also huge and even if you do hit the green, a two-putt isn't a given.
#17: Par 3 – 203 Yards
The 17th hole is the one you see when you pull into the course and think it's the most challenging of the par 3s. The shot itself is long – 203 yards from the tips – and plays every single yard of it and then some (plan for +3 to +6 more yards).
Then, the green is very challenging with a bowl in the middle left section. Golf balls seem to funnel that way which is good if the pin is there but not so much if it's in the right or back section of the green. Aim for the right center of the green and if you push it, the slope should kick it on the green.
#18: Par 5 – 558 Yards
The final hole at Legacy is awesome and a good chance to get a good look at birdie. If you hit a good drive and avoid the bunkers right, you should have a look at the green in two. But like #14, it's not the easiest of approaches with a long club.
If you miss right, there are some deep bunkers that make a tough up and down. While missing to the left will kick your ball 20 yards left and leave an uphill chip to the green. Ideally, you want to miss short and left isn't the worst.
Best Shot of the Day
The best shot of my day was on #17 where I killed a 5 iron to about 15 feet on the hardest par three on the golf course.  But let's talk about the real best shot of the day – the hole in one my mom made! To give you some context, she's about 5 feet tall and isn't known as a "bomber" off the tee.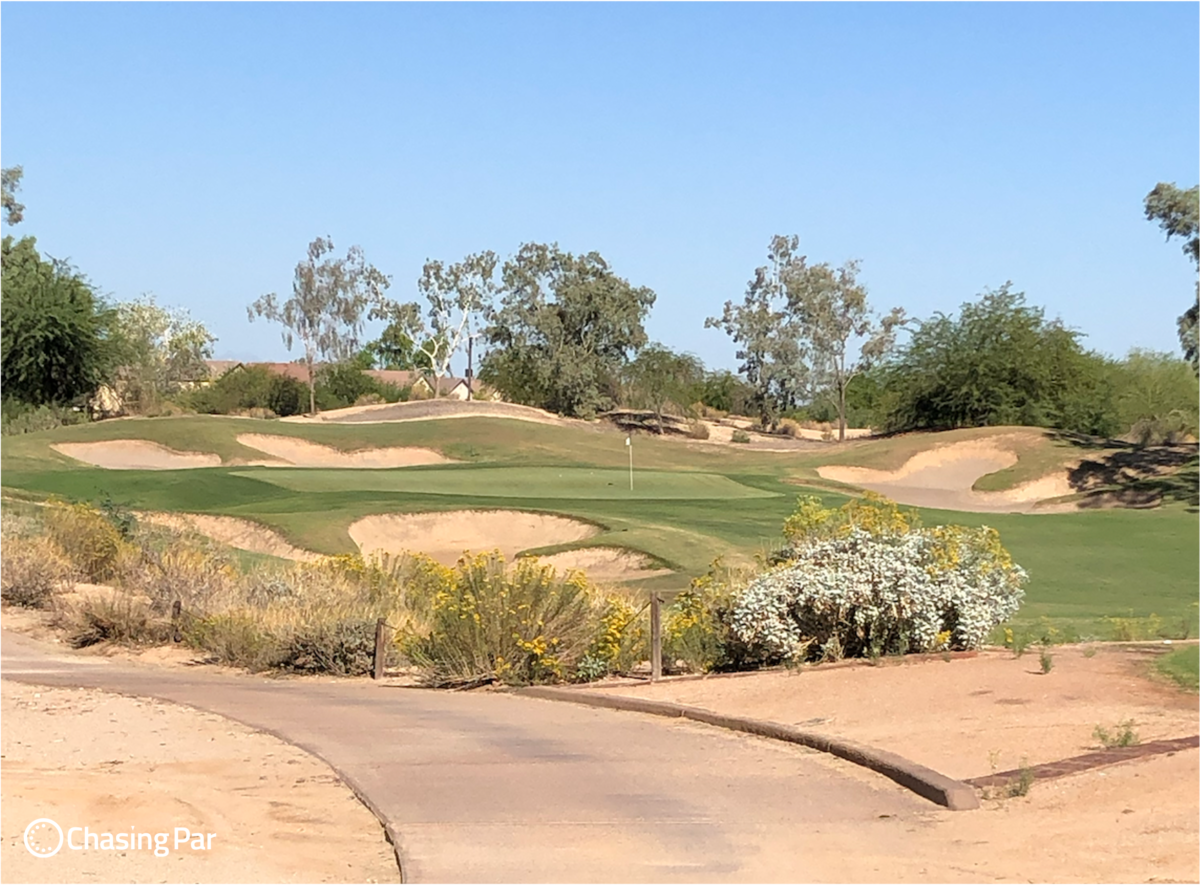 On the par three 4th hole, she hit her driver from 110 yards – yes, a driver. She hit it perfectly, then it bounced, rolled… and found the bottom of the cup. That day we got paired up with a single player and as we were celebrating on the green he said, "This is the hole they have cameras on to document an ace. They also pay you a $1,000."
We were in disbelief. Sure enough, we turned around and they have a built-in post with three cameras.
We went into the pro shop after the round, filled out some paperwork, and she got her check in the mail. While getting $1,000 for a driver hole-in-one is epic, the best part was the video. They make a cool hype reel video that you can relive over and over again.
So if you're going to make an ace, make sure it's at the 4th hole at Legacy golf club.
Overall Recommendation
Legacy earned a rating of 9.0/10 – it's a great course that I've never seen in bad shape in more than a decade of playing it. Whether it's peak season or dead summer, it's always one of the best manicured courses with one of the best practice facilities.
While it's not the hardest golf course, it's very fair for the average player. If you hit it long and straight off the tee, you can go low here! I played in a mini-tour event a few years back and guys were shooting low 60s with ease.
What's In the Bag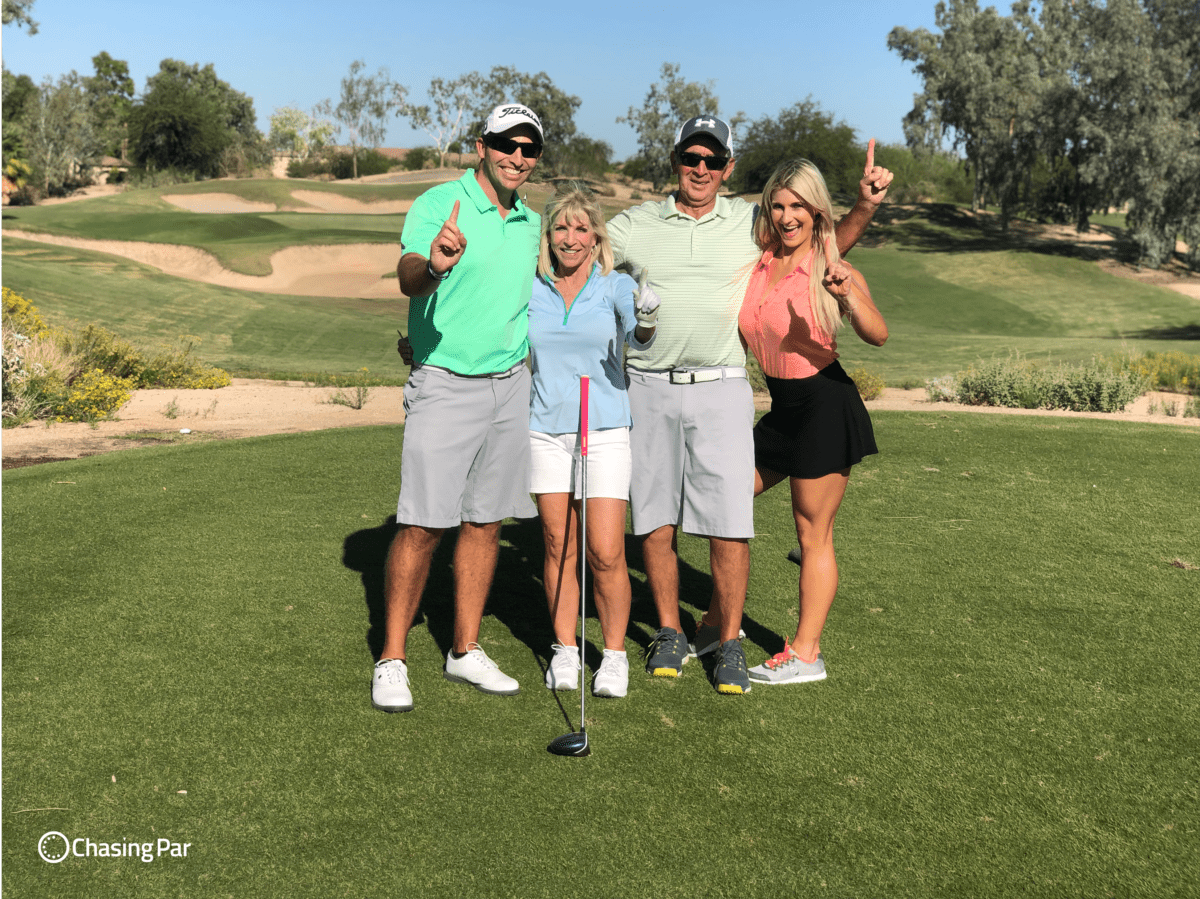 Should You Play Legacy Golf Course?
Yes, you should; it doesn't get these kinds of ratings from Golfweek and ESPN without being a great course. It's always in good shape, relatively affordable year round, and a good test of golf.
But it does get busy so make your tee times well ahead of when you want to play. Finally, don't forget to aim for the flag on #4 – it might be your time to get an ace too!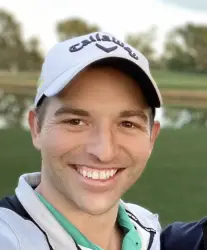 Latest posts by Michael Leonard
(see all)