There's nothing special about what's in my golf bag. Nothing that will surprise you, or maybe think I'm on to something. On the other hand, I'm not a pro or a celebrity, so seeing what actually is in my golf bag isn't wasn't a topic that I felt would be popular. Similarly, think about any person doing an episode of MTV Cribs – without the celebrities, it probably wouldn't have made it through the first season.
Let's flip it around, this guide is about you should have in your bag when starting out. Many of the things on this list seem obvious and we've dug a little deeper to find the best option for a beginner.

Clubs & Bag
Balls
Tees
Glove
Umbrella
Ball Marker
Divot Tool
Travel Size:

Kleenex
Sunscreen
Bandaid

Packable Wind Breaker/Rain Coat
Towel
Brush / Club tool
Let's get into the list of items for your golf bag
Getting your golf bag setup is a careful blend of being thoroughly stocked with anything and everything you might need on course and keeping the weight of the bag as light as possible.
To put this into context, it's sometimes hard to plan being outside for 4+ hours on the course. The weather can change, temperature change and we can forget how much sun we get.
The following list is a recommendation for the beginner golfer who's looking for their bag to be setup and ready to go:
---
The Best Golf Clubs for Beginners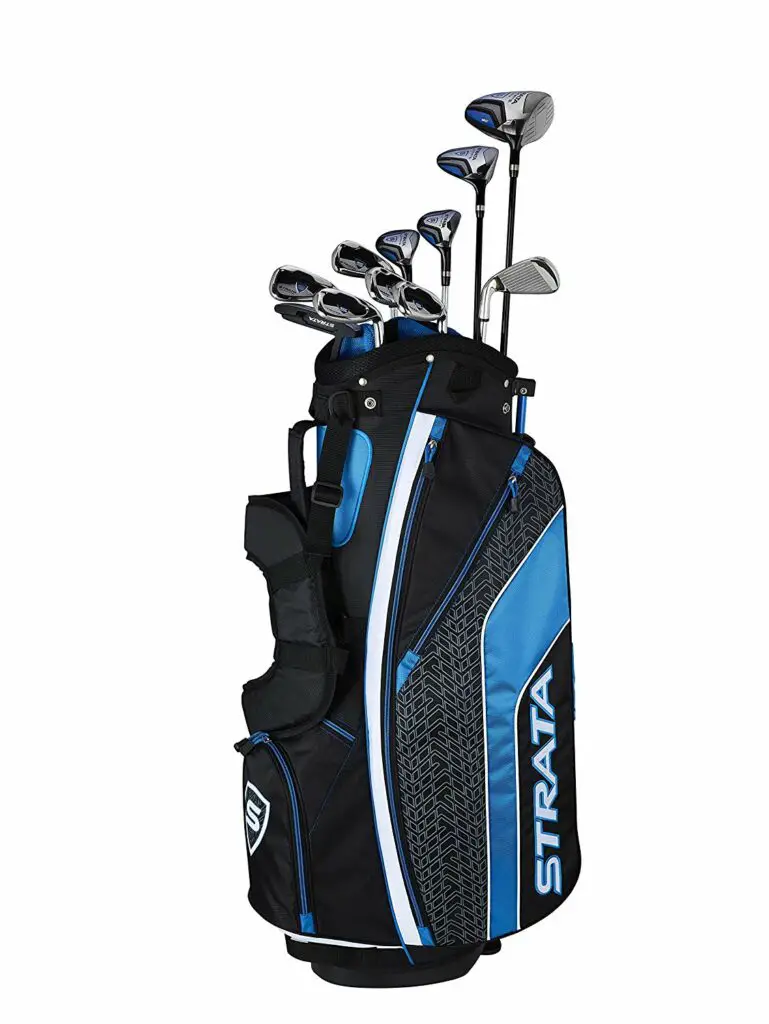 The best golf clubs for beginners should be easy to purchase and easy to play. Easy to purchase in our mind means that there's few options that need to be decided and on the shelf its easy to spot: the set will have more clubs.
Take for example this set of Callaway's Strava Complete Set. Consistently reviewed the top overall set of golf clubs for beginners, there's plenty of variations and everything (even the putter and bag) is included!
This set is perfect for the new golfer. Control, distance and forgiveness are all there. Full set of irons, hybrids and woods provide coverage for the many situations new golfers find themselves.

Getting into a new set of clubs can be helpful. Price-point and ease of purchase is one point, but the beginner clubs are also easier to hit and have a smaller margin of error. Your ball striking will be comfortable and lead to more consistent shots.
---
Best Golf Balls for Beginners
Much like the golf clubs for beginners, having something that is forgiving certainly helps with confidence and avoiding mistakes. Mistakes will happen, but a forgiving set of clubs or softer feel balls can sometimes save your shot from going out of bounds and keep it in the rough.
Course management is a topic that a lot of golfers struggle with… there's always a voice telling you to, "go for it."
Why does course management matter? Because there's a cost to poor golf course management: lost balls.
Lost balls have created an industry of recycled or used balls that are often lost after the first shot. Think about the tee shot that needs to cross a large pond to get on the green. You could take 3 shots to comfortably reach the green and avoid the water, but you might – just might – get on the green with one shot. However, that one shot would have to be near perfect off the tee and, well, you're not a pro.
So, many of those balls in your recycled bag could have been a hero, but didn't fly far enough.
Starting out, I would try the recycled balls. The value is the best out there, plus you usually get a variety of balls in each bag, which means you might find your favorite or lucky charm that you can go out and buy new.
If you're starting with new balls, the TaylorMade RBZ line is one of the most forgiving and feels great when hitting it. Check out these as an affordable, nice golf ball.
---
Convenient Items on the Golf Course
There's a few small items that come in handy on the golf course, often more than you think. Some are about comfort and surviving the round, others about maintenance for your clubs. The extra weight that these will carry are worth the convenience factor when needed.
---
---
---
All Weather Golf Glove
---
---
---
---
Easy-to-Apply Sunscreen
---
---
The final item that we recommend is a water bottle that can clip on to your bag and be refilled through the day. Keeping hydrated and keeping your water cool is essential.
Lastly, bags and how they are filled up are something that I love geeking out about. If you have recommendations, please comment below or email us your suggestions. We'll keep this updated as we find the best choices for your golf bag!
---
Chasing Par is a golf resource for players who are looking to get started and improve as a golfer. Sometimes improving is finding an awesome course, or making your bag a little bit lighter so you can walk through your entire round, rather than hitting the wall on the 14th hole. Another way to help survive the round is with a comfortable pair of golf shoes, maybe even some sneakers that have been reformatted for the golf course.